Meet our gang…

The following are our current dogs – not all of our dogs are able to go to a home . Some of them where a subject to abuse and find it very hard to trust again. Others were never properly socialized as puppies, and are still wary of humans. However they are all up for sponsoring.
If you are interested in adopting a dog please call the Sanctuary for more information.
Any adult dog adopted from our sanctuary qualifies for free visits at Happy Paws Clinic, Marsa.
All of our dogs are vaccined, neutered and micro chipped.
Anyone who would like to adopt a dog will have to sign a contract, this is to ensure that dog will go to a loving family and a great home. Most of our dogs suffered from malnutrition, abuse, abandonment and much more so we would like them to go into a new life where they never have to experience such days again. Also a donation will be asked for when adopting the dog NOT because we sell our dogs but to help us with our daily expenses.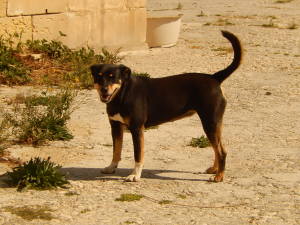 Pippa was homed to a family when she was a puppy. She had always been very nervous and no to happy with people touching her. But, living with a family, she was a happy dog and bonded well with her 'mama'. However, when she was 5 years old her family decided to return Pippa to the sanctuary.
Poor Pippa was heartbroken… she refused her food and would not let anybody touch her. Little by little we started gaining her trust. She s much better now, but we still can't put a lead on her, and we cannot pick her up or try to home her. She comes to us and wags her tail, but will not trust anyone to do anything else. Poor Pippa's fate is to live her life at the sanctuary.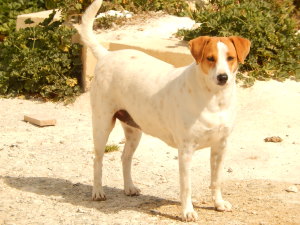 Yvette was brought in to the sanctuary with her mum and dad. She was about 7 months old at the time. Before being brought in she used to live on the streets eating scraps of food she could find. Her parents we very friendly and soon found a home. Yvette on the other hand is the scared type of dog. Just like Pippa, she comes to us to greet us, wags her tail, eats from our hands, but that is as far as she goes. She still won't accept having a lead put on or go out for walks. But at least she will allow us to pick her up and stays on our lap for cuddles. Unless one of the volunteers adopt her, Yvette will be with Pippa for the rest of her life.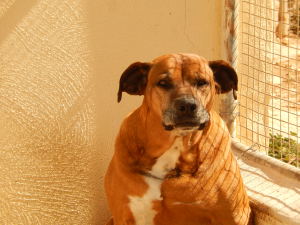 Rio was found roaming outside with a choke chain tied around his neck. It was so tight that it was very difficult to remove. Poor Rio still has the scar under his neck. On top of this he also had a bad ear infection which we treated immediately.
Rio likes to choose his friends. With regards to dogs he prefers the females and as for volunteers… there are a few who are not allowed in his pen!! With the rest he acts like a little puppy. He tends to guard his pen, and when he is out on his runs no visitors are allowed as he will also guard the premises. Rio loves to play and lie on his back to be tickled on his tummy….
---
MEET THE RUNNERS … Tigra, Michelle, Kimba and Barbi 
These dogs are so called because they have the freedom to run around the sanctuary day and night. They are all friendly and sweet and get along with the other dogs as well as all humans.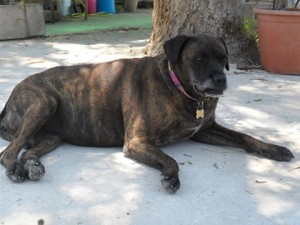 Tigra has been living at a soldiers' barracks at Hal Far for 11 years. Soldiers found her as a puppy and took care of her. She was neutered when she was over 6 months, had a place to sleep in and was loved by the soldiers stationed there. She was happy, had all the freedom she wanted and life was good, until a new recruit complained about her, and even falsely claimed that Tigra had bit him! The authorities had to file a report and poor Tigra lost the only home she had ever known. Luckily for her we could admit her to the sanctuary where she is once again loved and cared for.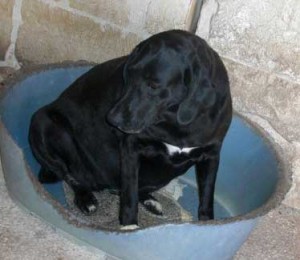 Michelle has been at the sanctuary for the last 10 years. She was a stray at the Kalkara Industrial Estate, now Smart City. Michelle was on our waiting list because her feeder knew that the area would soon be taken over for the project for Smart City, and the factory she lived in was one of the first to be demolished.
Poor Michelle is afraid of thunder and fireworks and is terrified during the hunting season. She is also very shy and scared of new people, but has settled down well as a privileged runner.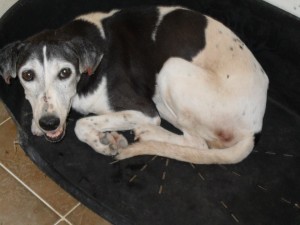 Kimba is around 15 years old. Her first 14 years were spent in a room in a field with 4 other dogs. They ended up at the sanctuary when their owner had to give up the room he rented. Kimba is a friendly dog and has settled in well as a runner. She has a special claim to the kitchen, an has been known to scold some dogs who invade her territory, she loves all the volunteers and the treats we give her.
Barbie was a stray who settled down in a field where there were already some male dogs. Obviously, once she was on heat she soon became pregnant, and Barbie became the proud (and exhausted) mother of 12 beautiful puppies of various shapes and sizes. The owner of the field was happy to feed her along with his dogs, but he needed help in homing the pups. Barbie and her little ones were brought to the sanctuary, and the puppies stayed until good homes were found for them. Barbie was an excellent mother – so loving and patient! While Barbie was with us she changed from a scared dog to a loving one who enjoys human company, however she will not take a lead and we are therefore unable to home her.
Rabti came from another sanctuary some years ago. He is about 11 years old and has gone completely blind, and is almost deaf too. In spite of this he enjoys life at the sanctuary – he still manages to get around and finds his way by sniffing. Rabti does not trust strangers, but he likes the attention the volunteers give him. He loves his food too!
---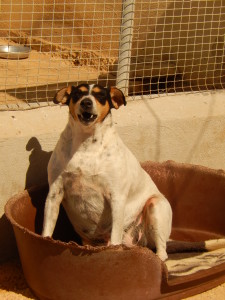 Pity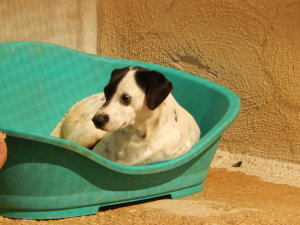 Cuddles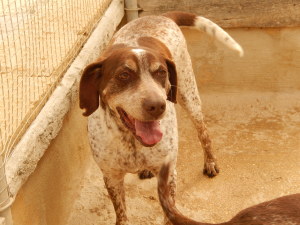 May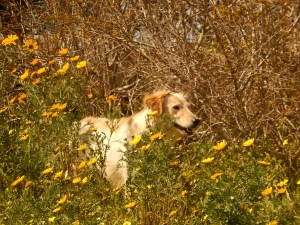 Moreya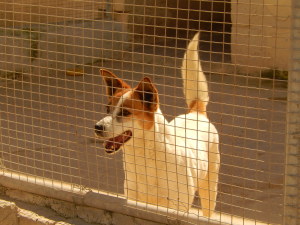 Zoya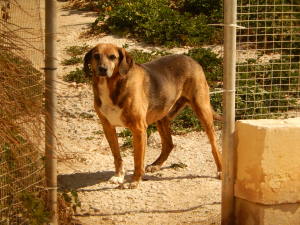 Sid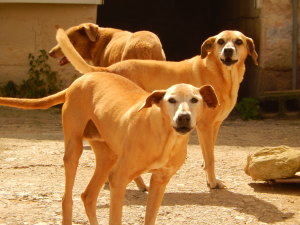 Paris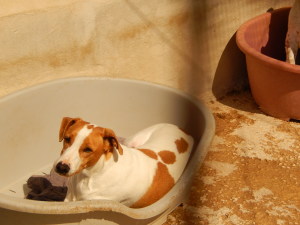 Ace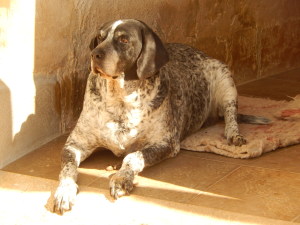 Susie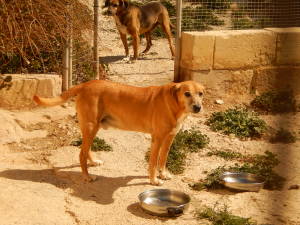 Jackson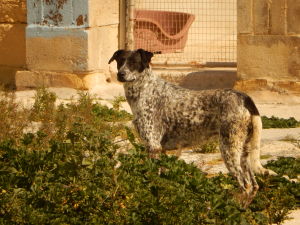 Buttons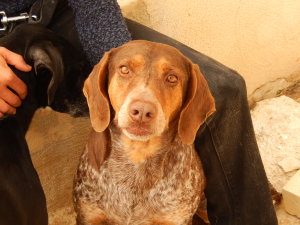 Thor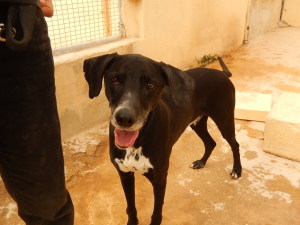 Taz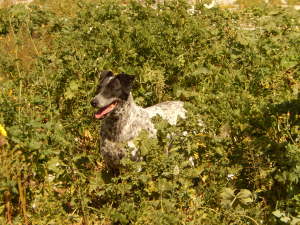 Sandy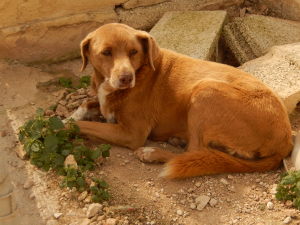 Mindy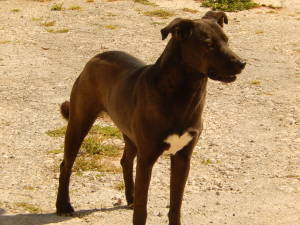 Rusty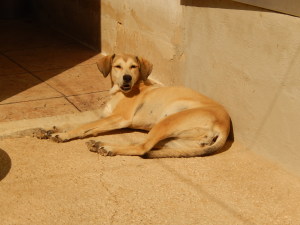 Lenise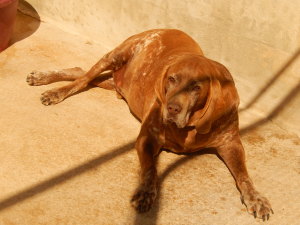 Pixel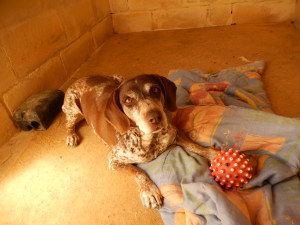 Zeta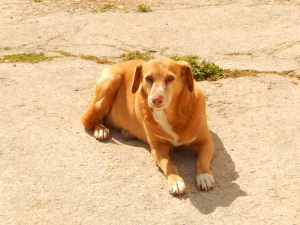 Georgina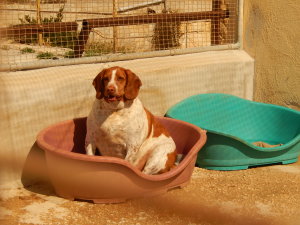 Norsho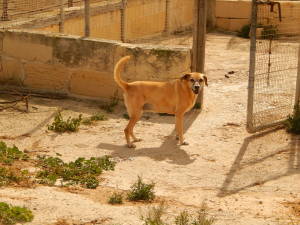 Mimi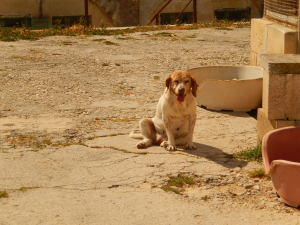 Antonia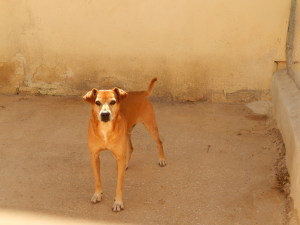 Gringu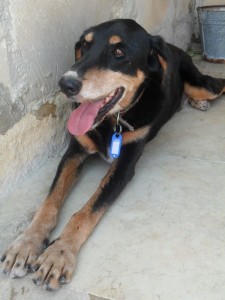 Pitcher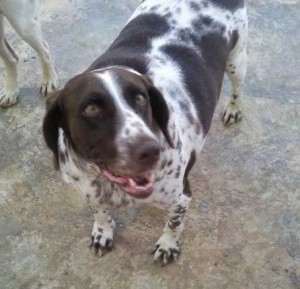 Baby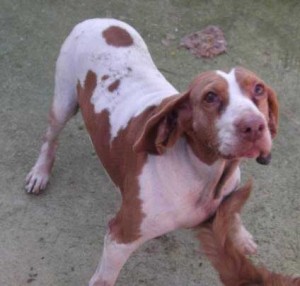 Cloudy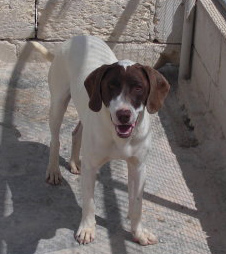 Mask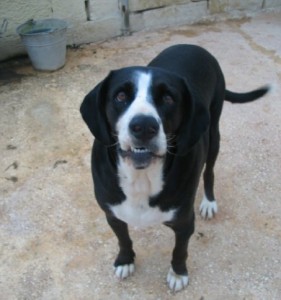 Scott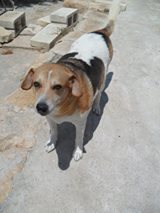 Benji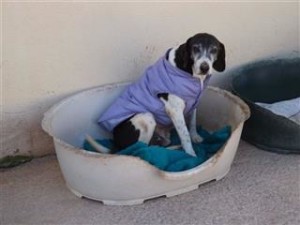 Robbie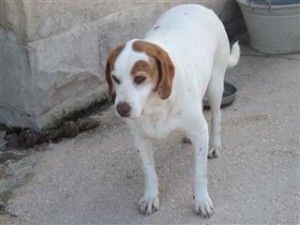 Zorro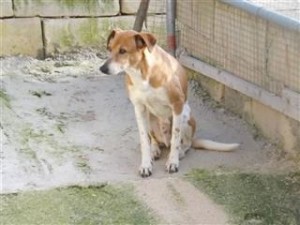 Mr Heinz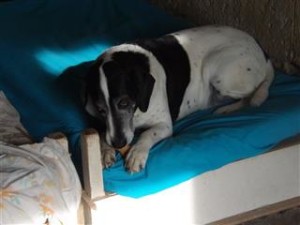 Cooper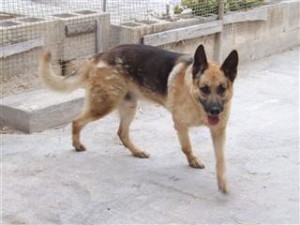 Bruce