The Island Sanctuary Open Day 2013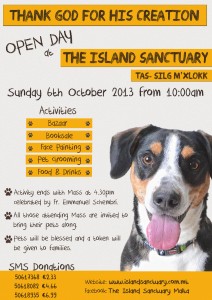 This year has passed so quickly. Here we are preparing for another Open
Day and at the same time celebrate the feast of St. Francis, World
Animal Day and above all THANK GOD FOR HIS CREATION.
As always it has been another very busy year for us volunteers. During
the summer months we managed to get that extra help from the students
and teachers who, besides having their own days at the sanctuary during
the year, so kindly give up some of their free time to get the extra
work done during these few but very important months, which will lead to
winter. There was the organising of the bedding room, maintenance work
on the premises, gardening and little odds and ends. Work, that if it
weren't for them, would have had to be added on to our daily routine
pressure! So a very special THANK YOU to them.
Now we are turning to YOU to do YOUR part by helping us raise funds so
that we can continue our work further. Without your help and generosity
we cannot go on.
As usual there will be the bazaar, bookfair, items for your pets on
sale, grooming of your pets as well as delicious cup cakes, cakes,
tea/coffee, drinks, biscuits and savoury snacks.
All those who would like to bake cup cakes, cakes (please no cream
because of the heat) kindly inform Graziella either on facebook or by
email on islandsanctuaryfundraising@gmail.com as soon as possible.
As usual we will end with mass at 4.30p.m. but before, we will be
inaugurating and blessing a niche so kindly donated and built by Mr.
Dominic Ellul of Nature Creative, who adopted our Iella. It would be nice if you could be
present as well.
So make sure you don't miss this lovely Autumn event and help us to
make it once again a huge success.
Thank you, best regards and hope to see you there.
Gloria
obo The Fund Raising Committee.
The Island Sanctuary Association.