Open Day 8th October 2017 – Thank You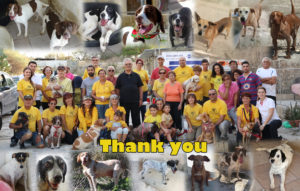 Thank you all
Since the feast of St. Francis falls during one of the months when the weather is unreliable, we are always afraid that our Open Day is marred by it! This would mean that all our hard work would have been in vain! Such was the case of our Open Day held in 2014! So you can imagine our relief, this year, when after the terrible weather we had during that week, we awoke to a bright, beautiful and perfect Autumn Sunday!
All the volunteers were at the sanctuary very early in the morning to get things organised for our BIG DAY and although doors would open at 10.30a.m. people were already waiting at the gate long before.
As soon as the gates opened, one would think that there was a Sale as people stormed in to be the first to acquire the best bargains from the various departments. The bookshop, bazaar and pet shop were inundated with people. Cup cakes, Scones, Cakes etc., all so yummy and delicious kept arriving from people who so kindly brought them to us to help us raise funds. We had also homemade Dog Biscuits for sale!
The Bric-a-Brac table with its display of lovely items and ornaments, raised a substantial amount. This year we also had a Kids Corner with a Bouncy Castle, face painting, balloon modelling and games and prizes, where everyone was a winner! Oh Yes, our Denise dressed up as Wonder Woman, Charlene was a Fairy and Stephanie a Bumble Bee!
Then we come to the food table! My oh My what a lovely smell coming from that area! What are they cooking? Hamburgers, Veggie burgers, Chips, Veggie ftiras and Tuna ftiras! Tea and Coffee with Biscuits! No wonder their stall was always full of people who left them breathless! By early afternoon all food had finished!!!
Unfortunately our calendar this year was not ready in time, but we had a sample of it and people booked it just the same and all details were taken so that as soon as we have it in hand, it will be posted to them. We also had a considerable amount of memberships and sponsorships.
Another attraction was a guided tour by our PRO Sylvia. Although all dogs had their profiles attached to their pens, it was very interesting to know all the work involved to run our sanctuary. Due to lack of volunteers, we cannot accommodate any more dogs, so there were some pens that were empty. These will be filled ONLY and WHEN more COMMITTED volunteers join us! So if you are one who can offer some time, join us, you will not regret it!!!
It was nice to see some of our ex-sanctuary dogs again and a very welcome surprise was seeing our dear Zoya, so radiant and happy reunited with her owner after 2 years! She too was so happy and excited to see us and as soon as Jonathan released her lead she rushed off to her ex-pen and went to greet her best friend Gringu, whose pen was right next door to hers and he leapt with joy! What a beautiful sight!
Like last year, all those who spent Eur4 or more from the Calendar, Cake, Bric-a-Brac and Food Table were entitled to participate in a raffle for a Buffet Lunch for 2. We also had prizes for winners of the Prima (Lotto draw) and for the Guess the Shells. These are the winners:
GUESS THE SHELLS?: Ms. Eline Grech.
BUFFET LUNCH FOR 2 AT THE SEASHELLS RESORT AT SUNCREST, QAWRA: Mr. Stuart Murray.
LOTTO DRAW (PRIMA) as follows:
PIZZA FOR 2 AT LUXOL SPORTS CLUB, PEMBROKE: Ms. Dorothy Buttigieg.
CUT AND BLOW DRY BY 019 HAIR DESIGN, NAXXAR: Mr. Mario Sciberras.
Congratulations to all of you.
Our appeal for garden tables was overwhelming and we used every single one of them so Thank You to all of you. Our wish for a BBQ was also granted and a brand new BBQ was kindly donated by A to Z Electronics and Hundar Emergency Solutions. A good quantity of Corned Beef tins to be used for medication and Tinned Food was also donated. We are blessed by so many generous souls who are always ready to respond to our appeals!
Our Open Day raised the wonderful sum of Eur7365.89! A nice record sum indeed, but one only needs to think about vet bills, medication, vaccines, monthly flea drops, water and electricity bills, food to be bought and so on to realise that the funds will go out quicker than they came in. So we will soon start to prepare for our next Fund Raising Event to keep us going!
It is such a grand feeling seeing all volunteers enthusiastically working together and doing their utmost to make our Open Day a success so that we can give the very best to our dear dogs who unfortunately are still with us because they haven't found a home.
THANK YOU to all our sponsors, to those who brought us stuff to sell, all of you who visited us on the day, those who couldn't come and yet sent their donation, the media for publicising the event, Animal Welfare who so kindly noted our date and held their Open Day on a different day, to our photographers Annabel and Krista! Our thanks to Johann for the artwork of the poster! THANK YOU to all our wonderful volunteers who work so hard and make so many sacrifices to make the lives of our darling dogs so much better. I do not want to leave anyone out so THANK YOU to all who in one way or another helped to make this Open Day a fantastic success! WE COULD NOT HAVE DONE IT WITHOUT YOU!!!
Gloria
Obo The Fund Raising Committee.