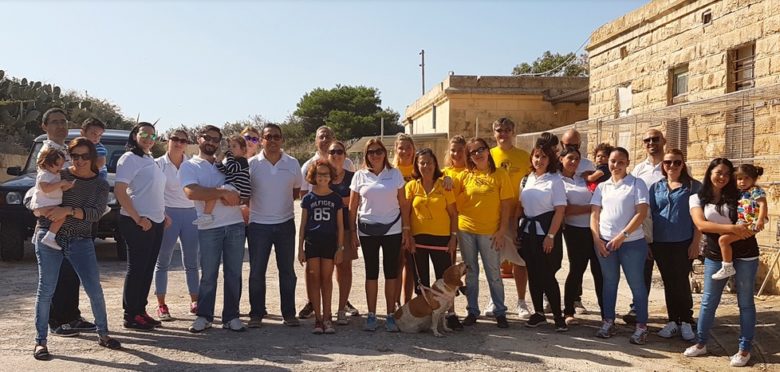 Donation and Dog Walk organised by proHealth employees in Aid of the Island Sanctuary
Prohealth employees made some new furry friends at the Island Sanctuary on Sunday 22nd October during a dog walk organised by the company's Social Committee. As part of the initiative, Prohealth also collected a sum of €125 for the sanctuary, which the company directors rounded up to €200.
A group of fourteen people headed towards the Island Sanctuary dog shelter at Fort Tas-Silg in Delimara, on Sunday morning. There, they were warmly welcomed by Gloria, Michelle, and the other volunteers, as well as by the excited barks of the resident dogs.
As they were handed the individual dogs for the walk, it was easy to see the excitement on the dogs faces, making it doubly hard not to want to take one of them home right there and then. Everyone seemed to thoroughly enjoy themselves, especially the dogs.
Unfortunately due to circumstances out of the sanctuary's control, the Sunday dog walks have stopped. Therefore, when a group or organisation make a nice donation and ask if they could take out the dogs, the volunteers always try their best to please them. However, the Dog Walks can only be held on Sundays, as during the week it disrupts the dogs' and volunteers' routine. Besides this, most of the volunteers work during the week and it is next to impossible for the ones taking care of the dogs during the week to hold Dog Walks as well, since they will only be 2 or 3 the most, to cover the day.
On behalf of the volunteers but especially the dogs at the sanctuary we would like to heartily thank the company directors, the company's Social Committee and all the employees who participated.