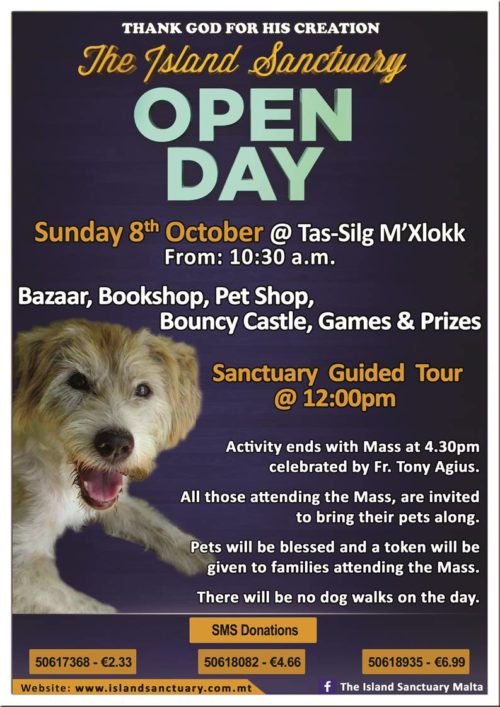 OPEN DAY 8th OCTOBER, 2017
Dear Supporters,
Days simply fly and each year feels like it is shorter than the one before!
Yes, our main Fund Raising Event is knocking at our door. OPEN DAY. This year it will be held on Sunday 8th October from 10.30 a.m.
Thanks to the voluntary work of Mr. Dominic Ellul and his helpers, we now have a nice new area for the children.  Lots of games with prizes and yes everyone's a winner. There will also be a Bouncy Castle, face painting and balloon modelling. So children tell your parents that you MUSN'T miss it!
Of course, we're not going to forget the adults. Stalls with cakes and bric-a-brac. The Bazaar, Bookshop and Pet shop all with lots of bargains for you.
Then so that you can enjoy a whole day out, you don't need to cook because food will also be available.  Burgers, ftiras, chips, hot and cold drinks. HEY, all pets are also very welcome during the day, so bring them along too! We would love to see our ex-sanctuary dogs so PLEASE do bring them whether it is during the day or for the Mass!
For the first time this year we will be having a guided tour at 12.00p.m.
Many dogs joined us, others crossed the rainbow bridge and others found a forever home.  Yes we have had many sad stories but we also had lovely ones like Zoya's who after 2 years was reunited with her owner! Sad and happy endings always bring tears to our eyes but Zoya's was special!  She literally went berserk, jumping on him as soon as she saw him, covering him with kisses and kept screeching with joy! How could we hold back our tears! This definitely proves that dogs don't forget!
Unfortunately, the problem of volunteers has sprung up again and therefore it is sad to say that at the moment we cannot take in any more dogs!
Well, activities will stop at 4.00p.m. and Mass will be celebrated at 4.30p.m. All pets and our residents will be blessed and a token given to each family.
SO MAKE A NOTE ON YOUR CALENDAR, NOT TO FORGET IT AND WE HOPE TO SEE YOU THEN!
Gloria.
Obo The Fund Raising Committee.